Thank you all for your kind words regarding Mon Amie.  She and I visited the vet in Dakar every other day for two weeks, and now we are back in Thilogne.  Mon Amie is barely limping, is almost up to the level of energy she had before the accident, and she should be fully recovered by the end of December. Now that she is doing well, I feel a lot better as well, which has enabled me to focus my energy on my work instead of her health every day.  I'm still changing her bandages, but since the wound is no longer infected, she is no longer in pain, so cleaning it is at least manageable.
Mon Amie really wanted to dress up for Halloween so I let her choose what she wanted to be, and she insisted on being a Pulaar woman.  Below is a picture of Mon Amie..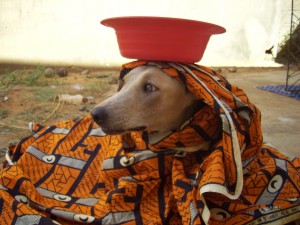 …compared to the real thing: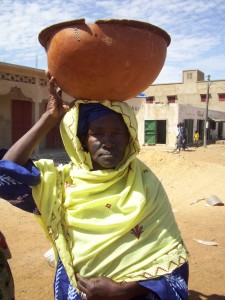 I thought she did a pretty good job putting the outfit together and balancing the bowl on her head – she even picked Halloween colors!
I'm not sure what Demba is going to be for Halloween, but I think I heard him saying he wanted to go as Darth Vader from Star Wars.  Speaking of Demba, he seemed to be in good spirits for about one day only after I got back from Dakar, then he was back to his old self.  While away from site, I had bought a guitar from a PCV who had completed his service, and I was teaching myself some chords one day, in my room in Thilogne.  It had not even been 20 minutes, and I probably only strummed the guitar ten times since it was the first time I had ever played and I was trying to get the fingering down, when Demba came by and said in an irritated voice, "Hola! Give the guitar a rest for a while!" I was stunned how little tolerance he had, considering I not only listen to his chanting at 5:00 every morning, when he is shouting about five feet from my ear, I also listen to Muslims chanting on the radio for a good hour a day, and I listen to it with the volume on full blast because the controller is broken.  I wanted to tell him he should be grateful I didn't buy a trombone or a violin, but I didn't know how to say that in Pulaar.  In any case, the rest of my host family loves it, and they often come in my room when I'm playing and tell me how great the music is – I mean, they should all love it because it's the only real music in Thilogne (unless, of course, you consider Akon to be real music).
One spooky thing that happened recently is that my bike was stolen!  However, for every bad guy in Thilogne there are about ten good ones.  All I had to do was tell a few people at the garage to keep their eyes open, and two days after it was taken, it was found by the garage manager.  Just as my host family and I suspected from the start, it was an inside job.  23-year-old Samba, Demba's nephew, who lived us, stole it and then sold it to his friend.  He left for Dakar the same day, and apparently he has left for good.
If that story doesn't scare you, maybe this video will.  Actually, apart from the teacher yelling at his students to "hurry up" (dépêche-toi!) when they are writing on the board, the scene is not bad.  The day before, however, I saw him hitting his students with a stick when they took too long to respond or answered a question incorrectly.  Not surprisingly, he did no such thing when I was in the classroom filming.  Sadly, numerous PCVs have seen this from teachers in their villages, and it is heartbreaking that it happens because the kids do not learn better or faster from it, they just learn to be afraid to answer the questions and to hit people themselves.
School in Thilogne video (Click Me!)
Hope you all have a fun Halloween!  And just for the record, Halloween is not celebrated here…unfortunately.
38 Responses to "Happy Halloween!"