Hi Everyone,
Sorry I have not posted anything on my return until now!  I have been busy enjoying the comforts of good ol' US of A.
Hiking with sister, Megan, in Shenandoah: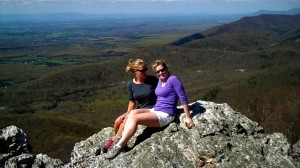 Family stroll  through cherry blossoms in DC: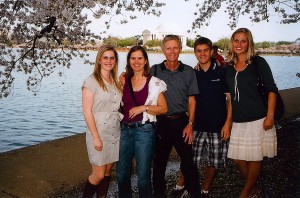 I brought Mon Amie with me on the plane, and she survived being cooped up in her crate in cargo for 20 hours, not without trouble, of course.  When I decided to fly her back with me from Senegal to Virginia, I knew it was not going to be easy, so I wasn't at all surprised when things didn't go smoothly.  I couldn't get on a direct flight from Dakar to Washington DC because of Peace Corps regulations, so I had a layover in JFK.  When I arrived at the JFK airport, I heard through word of mouth that my dog had to be cleared at customs.  The problem was I couldn't find my dog.  I asked around and no one knew where my dog was.  Like typical New Yorkers, they were angry with me, as if I were playing a game with them.  Each time I asked where my dog was, the reply would be, "WHERE'S YOUR DOG?! YOU NEED TO CLEAR YOUR DOG!"  I said, "I KNOW! I CAN'T FIND HER!"  One security guard eventually got on the phone and ordered a Delta rep to come to the baggage claim area.  After repeating the announcement four times, a Delta rep finally came and told me calmly that I did not need to clear my dog through customs and the dog would be transferred to my next flight.  I thanked her and left.
Five minutes before boarding my flight to DC, I heard my name on the loudspeaker, telling me to go the front desk.  I went there, and (surprise, surprise) the dog was not on the plane because she needed to be cleared at customs.  I was transferred to a later flight, and I spent the next two hours traveling around one side of JFK to the other with the lady in charge of DSL, named Joan, who tried to get the dog cleared.  There were a bunch of complications: they wanted to send the dog to an airport that I was not arriving in, they wanted to keep the dog overnight because of some kind of DSL rule, they wanted to do this and that, etc.   Joan talked with a bunch of people, and in the end, Mon Amie made it to DC alive and well.
Click the links below to watch Mon Amie arriving at the airport in DC:
Everyone was happy about Mon Amie's arrival in America…everybody, that is, except our old dog, Gracie.  She did not take well to a new dog invading her house, and she was very hostile toward her for a few days.  Now, Gracie is tolerating Mon Amie, but she really doesn't like her much.  If Mon Amie sits next to her on the couch, Gracie will move to the other side of the room, just to get away from her, and any time Gracie isn't getting as much affection as Mon Amie, she starts barking.  However, considering how territorial Gracie is they are getting along really well.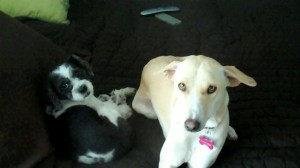 Dad with Mon Amie and Gracie: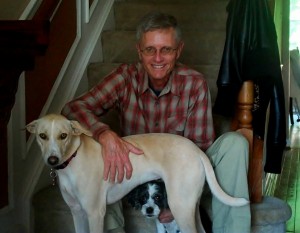 Thank you for reading my blog and for all your support this past year!
100 Responses to "Back in America!!"
……

Buywithout prescription…

Loft Insulation…

[...]Erin's Sojourn in Senegal » Blog Archive » Back in America!![...]…

It will be supportive to anybody who employess it, as well as me….

You are a very bright individual!…