Girls in Senegal, especially here in the ultra-conservative North, are not encouraged to exercise.  In fact, exercise is pretty much reserved solely for the boys.  Often, it is not even important whether or not girls excel in school, because their main purpose is to marry young and raise children.  Women are undoubtedly second-class citizens, and it would be a joke for anyone to claim that they are even close to equal to men.
If there is one chair available between a man and a woman, the man always gets the chair.  Women cannot enter mosques here, as they are built for men only.  Women, including young girls over the age of four, do all the cooking, cleaning, and laundry, while the men relax, drink tea, and do whatever they want.  I could go on and on, but my point is that women are not treated fairly, and life is unarguably harder for women than it is for men.  For this reason, I felt grateful to be able to start a girls soccer club, where girls could feel special and enjoy themselves for a change.  In a society in which men feel entitled to just about everything, it was a relief to do something fun exclusively for women.
Thanks to Long Beach Crew, a girls' soccer team from Long Beach, California, I was able to start the girls' soccer club here in Thilogne.  The CA team sent great-quality used jerseys, soccer balls, cleats, socks, shin guards, and shorts, among other things.  I also had soccer balls donated from my former employer, Lee District RECenter, in Virginia, which contributed to making the soccer club possible.
Luckily, I had a lot of support from the P.E. coach, who agreed that there was not enough emphasis on women's sports.  The main goal in starting this club was to promote girls soccer and raise awareness for the fact that girls can and should participate in sports.  I believe we accomplished this goal.  We had two-hour practices, twice a week, for a month, and there were a number of students, both male and female, who came to the school to watch the practices. Below: a photo the 16 girls in the club.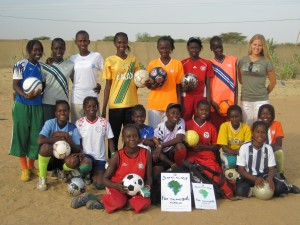 Yesterday was the big game (8 vs. 8).  The winning team was to receive two jerseys per person, good-quality American soap, and other prizes for those who scored a goal.  The game almost didn't happen.  I set the date and the time a month ago, put up posters at the school, and had been in constant communication with the P.E. teacher, the principal, and the vice principal, who all said they were on board with me and that there would be no problems.  Every time I saw the P.E. teacher I mentioned the date and time of the game to make sure we were on the same page.
However, when we got to the stadium at 5:00, the P.E. teacher said that the boys were currently playing, and they wouldn't be done until after 6:00.  Needless to say, I was heated aggravated - I am used to getting little respect from men here, but he acted like we had never spoken before!  I explained that we had planned this, that the girls were prepared and excited to play, and that this would be the only time the girls would use the stadium field the entire year (probably for the first time since it was built).  He eventually said he would end the boys' game at 5:30, as if he were doing me a favor.  In the end, it was a great game!  Team "Brazil" beat Team "Egypt" 2-1, and we had a pretty good fan turn-out.  Below is a photo of the winning team, Brazil, along with the fickle P.E. teacher, Mr. Ndiaye.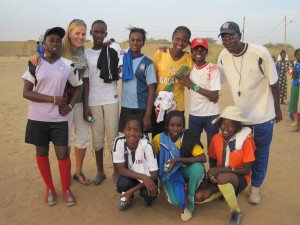 The girls seemed to have a blast at practices and during the game.  I am going to start teaching the second round of the HIV/AIDS and Gender Development classes, so I won't be able to continue with the girls' soccer, but the P.E. teacher said he would like to coach them, and I hope he does.  Besides the working with soccer club, I have been doing hand-washing demonstrations at the elementary schools and painting murals.  I'm running out of space to paint in Thilogne, so the mural below was painted at the newly-built health post in Kobilo, a neighboring town.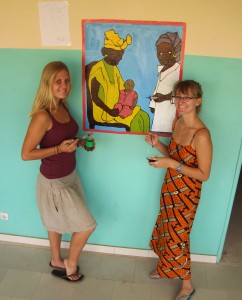 Just as a reminder, there is a photo album that corresponds to every blog entry (look on the right side of the page, under "Photos").  Thanks for reading!
49 Responses to "Letting Girls Play Soccer or, "Changing Cultural Norms""
OK. But how do you truly honestly feel about how women are treated there?
love, Gracie

Hi Erin,
Great photos of the Girls Soccer Team! I know our girls here will be thrilled to see them, and glad that the girls there got to experience sports, if only for a little while, though I hope they can continue to play soccer. It is sad to think that it is NOT the cultural norm for girls there to even exercise.

Erin, you ROCK! (And you're a pretty good artist too!)

████████►BUY VIAGRA◀███████…

████████▲▲▲▲▲▲▲▲▲████████…

名牌汇|博客|幽默|恐怖|故事|惊悚|…

[...]Erin's Sojourn in Senegal » Blog Archive » Letting Girls Play Soccer or, "Changing Cultural Norms"[...]…

Paquetes, Hoteles y Viajes a Ixtapa Zihuatanejo…

[...]Erin's Sojourn in Senegal » Blog Archive » Letting Girls Play Soccer or, "Changing Cultural Norms"[...]…

Very well written information….

Of course, what a great site and informative posts, I will bookmark your site.Best Regards!…

Minecraft Account Premium…

[...]Erin's Sojourn in Senegal » Blog Archive » Letting Girls Play Soccer or, "Changing Cultural Norms"[...]…

long beach search engine optimization companies los angeles…

Erin's Sojourn in Senegal » Blog Archive » Letting Girls Play Soccer or, "Changing Cultural Norms"…